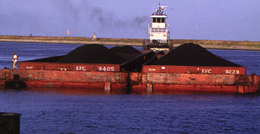 Result: The firm grew into the first tier of their sector. Their capacity marketing strategy contributed to reaching record earnings.
Project: Our team helped a marine carrier create multiple generations of marketing tools, including identity and branding; print catalogs and sales sheets; web and presentations; and more. The original working concept revolved on putting modern industrial equipment and high-tech systems at the service of their shipper clients. As the industry consolidated, the brand evolved to address potential customer uneasiness with a reduction in market participants.
Result: The company gained greater density in their traffic patterns.
Project: Another customer specialized in trucking food in less-than-load quantities. Due to the nature of their customers' distribution channels, many units returned empty or with very low volume of freight. We identified food companies in the destination markets, built demand and performed initial sales functions for moving those products in backhaul moves.